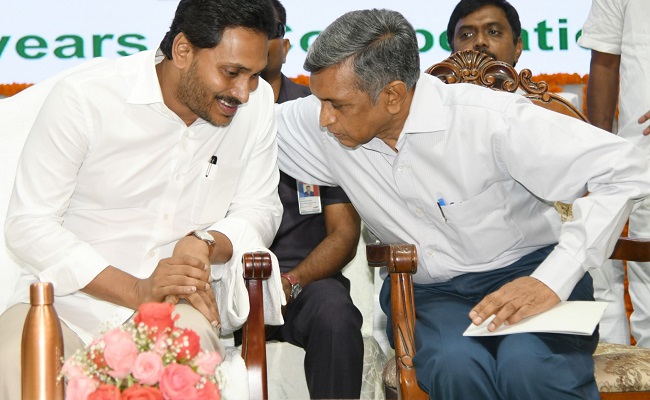 The surprising presence of former IAS officer and Lok Satta chief Dr Jayaprakash Narayan on the dais along with YSR Congress party president and Andhra Pradesh chief minister Y S Jagan Mohan Reddy at the APCOB diamond jubilee celebrations in Vijayawada on Friday raised many eyebrows.
JP not only shook hands with Jagan and exchanged pleasantries, but also had sat beside the chief minister and held discussions for some time on the dais. Both of them were found chatting seriously for some time.
Obviously, this led to the speculations that something was cooking between JP and Jagan.
The retired IAS officer has been keeping away from active politics, but has been expressing his opinions freely and frankly on various issues.
In fact, there were instances of JP complimenting Jagan on various occasions.
He extended his support to the decentralised administration policy of the chief minister and defended the three capitals' plan and formation of smaller districts.
He also lauded the initiatives taken by Jagan in health and education sectors. Particularly, the Lok Satta chief was all praise for the chief minister for introducing Family Doctor concept.
JP also supported the village volunteer system and said it was ensuring the delivery of benefits of welfare schemes to the doorsteps of the people without the involvement of middlemen.
So, naturally when he shared the dais with Jagan and held discussions with him, it led to the talk that he might join the YSRC and contest the coming elections on the YSRC ticket.
Some sections of media went to the extent of speculating that Jagan might field JP from Vijayawada parliamentary seat, because of the caste factor and also his clean image, which will appeal the urban voters.
Since JP also hails from Krishna district, it will be an added advantage for him, these reports said.