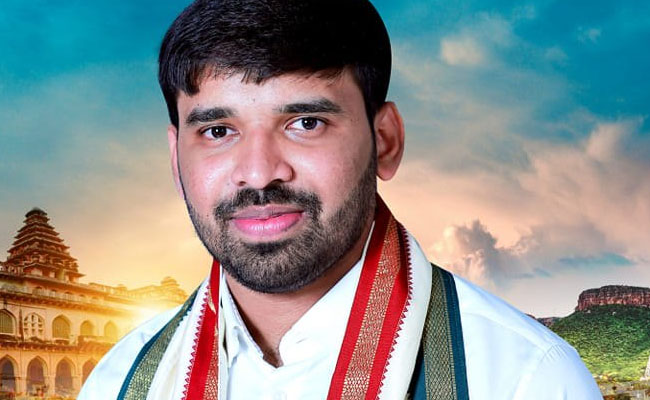 Not long ago, senior YSR Congress party legislator of Andhra Pradesh assemly Chevireddy Bhaskar Reddy openly announced that his son Chevireddy Mohit Reddy would contest from the Chandragiri assembly seat on a YSRCP ticket in the 2024 general elections.
The two-time MLA from Chandragiri assembly constituency had also been holding several other additional nominated posts as the government whip, Tirupati urban development authority (TUDA) chairman and ex-officio member of the Tirumala Tirupati Devasthanams etc.
In addition to these nominated posts, Chevireddy also served as the YSRCP district president for Tirupati and was recently appointed as a state coordinator for party's frontal organizations.
But in a surprising development on Monday, the Jagan Mohan Reddy government appointed Mohit Reddy as the chairman of TUDA, as Chevireddy voluntarily stepped down from the post to pave the way for the appointment of his son.
A government order (GO No. 509) was issued on Monday evening, appointing Mohit Reddy as the TUDA chairman for a period of three years.
At present, Mohit Reddy is the mandal praja parishad (MPP) president of Tirupati (rural) mandal. There have been allegations that he was poking his nose, rather directly, into the affairs of TUDA and had been giving instructions to the officials, taking advantage of his father's position.
In a way, Mohit Reddy has been acting as a de facto chairman of TUDA; and officials are forced to report to him. This led to a lot of criticism from the opposition parties and also from within the YSRC party leaders.
In order to avoid this criticism as it might create a negative impact on the party before the assembly elections, Chevireddy reportedly requested the high command to make his son as the TUDA chairman. 
Sources said the chief minister Y S Jagan Mohan Reddy has accepted the request and given the green signal for the appointment of Mohit Reddy as the TUDA chairman.
Now, it remains to be seen whether Chevireddy would be retained as the YSRC candidate for Chandragiri or he would sacrifice the assembly seat also for his son. Since Jagan did not entertain his request for the TTD chairman post, he might contest the assembly elections, sources added.
Alternatively, Chevireddy might be asked to play a key role in the state level party affairs as he has been entrusted the important task of securing victory for the party in Tirupati district.