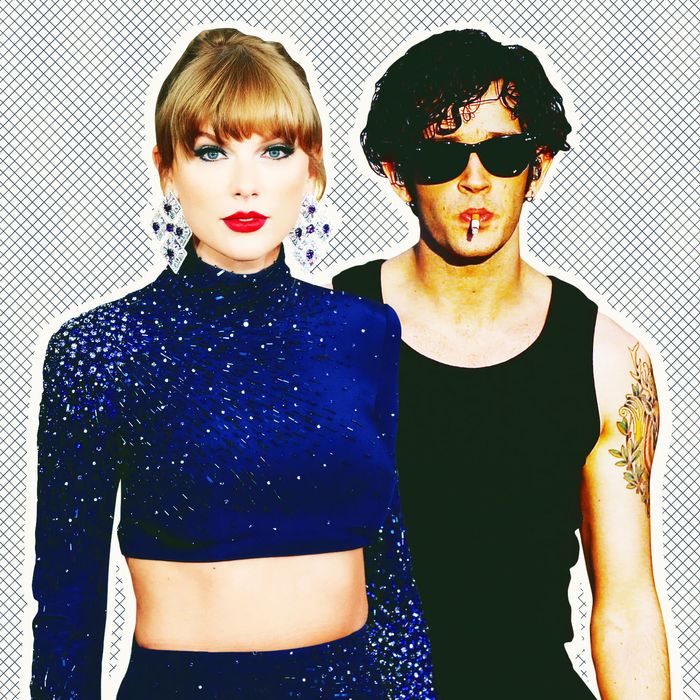 Phew!
Photo-Illustration: The Cut. Photos: Getty Images
And now, a collective sigh of relief: After a month of dating rumors, Taylor Swift and Matty Healy are reportedly over. The initial news came from TMZ, citing an unnamed "friend close to the situation" — is that you, Jack Antonoff? — with whom the preponderance of tabloid sources seem to agree.
"Taylor and Matt are no longer romantically involved," one told Us Weekly. "They had fun together, but it was never serious."
"Taylor and Matty broke up," another (?) told Entertainment Tonight. "They are both extremely busy and realized they're not really compatible with each other." This person went so far as to say that Taylor's circle isn't particularly surprised about the break-up, if that's what we're calling the end of a quick situationship, given that Swift just got out of a six-year relationship with ex-boyfriend Joe Alwyn. "Everyone who really knows her has been saying all along that this was a fun, good time thing that would last as long as it lasted and would be no big deal once it was done," a supposed "insider" told "Page Six" of the Healy fling, predicting that the pop star "will not be writing albums about this one."
"She's allowed to let off some steam and sew [sic] her oats," this individual observed, adding: "It was a summertime thing. Does everyone have amnesia about Tom Hiddleston? Jesus Christ."
Rest assured, we do not, but for anyone who needs reminding about how we got here: Speculation about Healy and Swift first emerged in early May, when The Sun claimed that they were "madly in love." Not only that, The Sun said, but they were ready to make their relationship known to the world while Swift (currently on her Eras Tour) was performing in Nashville. The idea that she had moved on already was surprising, sure — Swift's split with Alwyn had been announced mere weeks before, after all — but to Swifties who delved into Healy's problematic antics, it was also broadly objectionable.
Unfortunately for those fans, the tabloid report turned out to have some validity to it. Healy did indeed show up in Nashville, first at Starbucks with Swift's bodyguard and later at all three of her concerts. During one, he spontaneously joined Phoebe Bridgers onstage during her opening act. Several videos taken by audience members showed him hanging out next to the stage during Swift's performance with Bridgers, Gigi Hadid, and Lily Aldridge. Later that night, he and Swift were seen arriving at her condo in the back of a car together, and on Sunday, he was back in the VIP section of her show doing a movement that the Daily Mail described as "clapping and gyrating."
Not long after, a "Page Six" informant claimed to have seen Swift and Healy "cuddling and kissing" at Casa Cipriani in New York. Then Healy hung out with Swift's dad, Scott, during her Philadelphia show, as evidenced by vigilant fans' photos and videos. Swift and Healy were also seen coming out of New York's Electric Lady recording studio, the 1975's front man touching Swift's lower back as they parted the crowd. Nothing so concrete as a little kiss for the cameras or an accidental soft launch by country singer Keith Urban, but it was indicative of … something:
Exhibit A.
Photo: Robert Kamau/GC Images
Because on top of all that, these two also had history. Healy confessed in 2014 that he did have a brief "flirtation" with Swift but practically vomited at the idea of being in a relationship with her: "'Fucking hell! I am NOT being Taylor Swift's boyfriend.' You know, 'FUCK. THAT.' That's also a man thing, a de-masculinating, emasculating thing." Lovely.
Unfortunately, that comment is just the beginning when it comes to questionable behavior from Healy. For example, in January, he appeared to do a Nazi salute onstage. (His most loyal fans argued it was satire). In February, he laughed as podcast host Adam Friedland mocked Chinese and Hawaiian people. Healy also encouraged Friedland to do an impression of Japanese people working in concentration camps, then proceeded to join in. The episode also included some nasty comments about Ice Spice's ethnicity and racial identity. The whole thing was offensive enough that Apple and Spotify removed it from their platforms (it's still available on YouTube).
Anyway, neither party said anything to confirm that Swift and Healy were truly dating, and neither has said anything to confirm they've broken up. Still, I'm holding out hope that she can go back to writing catchy girl-power anthems and leave dirty-looking men out of her life for the time being.
This post has been updated.