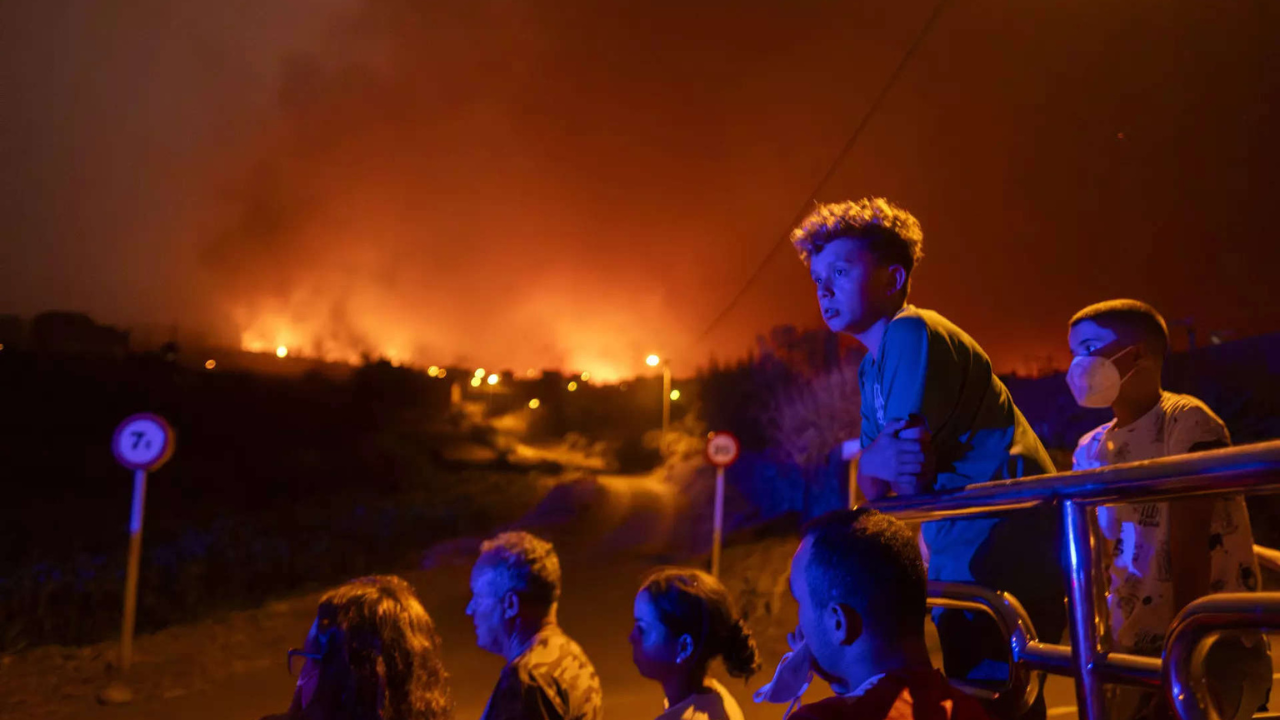 ATHENS: Gale-force winds fanned the flames of wildfires across Greece on Monday, including more than four dozen new blazes that broke out after midnight amid hot, dry and windy weather that has sucked moisture from vegetation. A nearly week-old fire blamed on arson raged in Spain's Canary Islands.
Greek officials said the body of a man was recovered in an area of the central Viotia region under evacuation orders, and local media reported he apparently died of smoke inhalation while trying to save his sheep.
State-run ERT television reported late Monday that another man was found dead in a burned forest in the northeastern Evros region, and authorities said two firefighters were hospitalized for injuries suffered battling a fire in the northern Kavala region.
European Union officials have blamed climate change for the increasing frequency and intensity of wildfires in Europe, noting that 2022 was the second-worst year for wildfire damage on record after 2017.
Evacuation orders were issued for villages in Greece's northern regions of Alexandroupolis, Komotini, Kavala and Orestiada, the central region of Viotia and the island of Evia. Fire departments across the country were put on general alert.
The coast guard said 20 people were evacuated by private boats from a fire on the island of Kythnos, and patrol boats and private vessels were on standby for potential evacuations from fire areas in Viotia and Evia.
"The last 48 hours, unfortunately like the next 48 hours, are proving exceptionally critical due to the strong winds and high temperatures that are creating extensive fire fronts," said Vasilis Kikilias, Greece's minister for climate crisis and civil protection.
Since midnight, he said, 53 additional fires had broken out in Greece, including 14 in the Evros border region alone. The government held an emergency meeting of the heads of the fire department, police, coast guard, armed forces and intelligence services.
Authorities banned public access to mountains and forests in several regions until at least Wednesday morning and ordered military patrols.
The largest active wildfire was ravaging forest and farmland for a third day near the northeastern town of Alexandroupolis, where 13 villages were evacuated and several homes were destroyed over the weekend.
More than 200 firefighters, assisted by 17 water-dropping aircraft, volunteers and troops were battling the fire, said Deputy Fire Chief Ioannis Artopios, a spokesman for the national fire service. Residents in Alexandroupolis were advised to keep their windows shut due to the smoke.
Fifty-six firefighters from Romania and two water-dropping aircraft from Cyprus were heading to Alexandroupolis, while 19 French firefighters were helping tackle the Evia fire.
Greece suffers destructive wildfires every summer. Its deadliest wildfire killed 104 people in 2018, at a seaside resort near Athens that residents had not been warned to evacuate. Authorities have since erred on the side of caution, issuing swift mass evacuation orders whenever inhabited areas are under threat.
Last month, a wildfire on the resort island of Rhodes forced the evacuation of some 20,000 tourists. Days later, two air force pilots were killed when their water-dropping plane crashed while diving low to tackle a blaze on Evia. Another three wildfire-related deaths have been recorded this summer.
On Tenerife island, in Spain's Canary Islands off the coast of West Africa, a wildfire that police say was started deliberately last Tuesday continued to burn out of control. More than 12,000 people have been evacuated and about 13,400 hectares (33,000 acres) of pine forest and scrubland have burned.
Acting Prime Minister Pedro Sanchez said the fire area would be declared a catastrophe zone, entitling the island to funds for reforestation and compensation for people affected.
The Canary Island regional president, Fernando Clavijo, told Spain's Cadena SER radio that "the worst is over," saying hundreds of firefighters had made progress.
The fire in the northeast of the island is not near any of the main tourist areas. The flames have come close to some 10 municipalities, but there have been no injuries or burned homes so far.
In Portugal and Italy, two other southern European countries often plagued by summer wildfires, temperatures were predicted to soar this week.
Italian authorities issued heat warnings for eight cities from Bolzano in the north to Rome in central Italy on Monday as temperatures were forecast to hit 38 degrees Celsius (100 degrees Fahrenheit). Storm warnings were in effect in the southern regions of Calabria, Basilicata and Sicily.
In Portugal, temperatures were forecast to reach 44 degrees Celsius (111 degrees Fahrenheit) in some southern parts of the country.