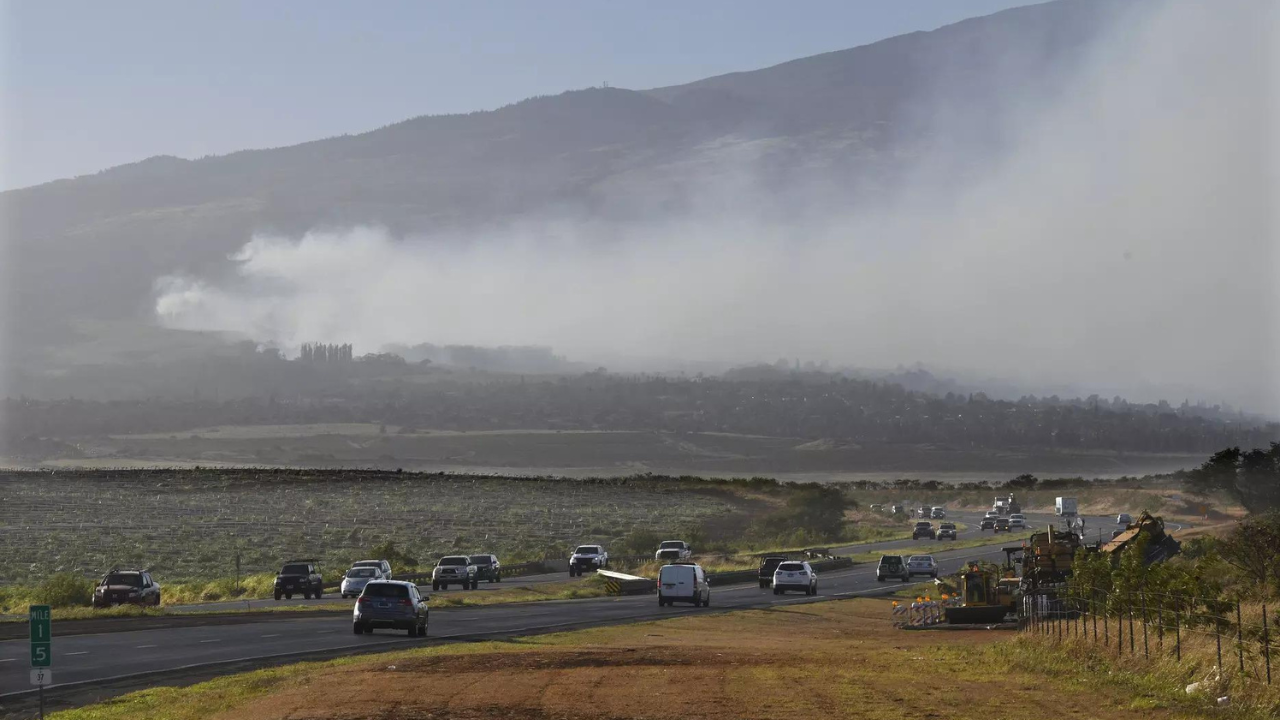 HONOLULU: Several Hawaii communities were forced to evacuate from wildfires that destroyed at least two homes as of Tuesday as a dry season mixed with strong wind gusts made for dangerous fire conditions.
The National Weather Service said Hurricane Dora, which was passing to the south of the island chain at a safe distance of 500 miles (805 kilometers), was only partly to blame for gusts above 60 mph (97 kph) that toppled power lines, rattled homes and grounded firefighting helicopters.
"It's kind of because of Hurricane Dora, but it's not a direct result," said Jeff Powell, a meteorologist in Honolulu. "It's just a peripheral result."
Hawaii was sandwiched between high pressure to the north and a low pressure system associated with Dora, he said, noting how it was sunny and very dry.
The dryness and the gusts "make a dangerous fire situation so that fires that do exist can spread out of control very rapidly," Powell said.
Maui and the Big Island were contending with wildfires. One Maui fire in Lahaina was contained, but firefighters were still dealing with another in the Kula area. Two homes were destroyed in a fire that engulfed about 1,100 acres (1.72 square miles), Maui Mayor Richard Bissen said. About 80 people were evacuated from 40 homes, he said.
"We're trying to protect homes in the community," Big Island Mayor Mitch Roth said of evacuating about 400 homes in four communities in the northern part of the island. As of Tuesday, the roof of one house caught on fire, he said.
Because of the wind gusts, helicopters aren't able to dump water on the fires from the sky – or gauge more precise fire sizes, Roth said.
Lt. Gov. Sylvia Luke, who is acting governor while Gov. Josh Green is out of state, signed an emergency proclamation authorizing the activation of the Hawaii National Guard.
Fires in Hawaii are unlike many of those burning in the U.S. West. They tend to break out in large grasslands on the dry sides of the islands and are generally much smaller than mainland fires.
Fires were rare in Hawaii and on other tropical islands before humans arrived, and native ecosystems evolved without them. This means great environmental damage can occur when fires erupt. For example, fires remove vegetation. When a fire is followed by heavy rainfall, the rain can carry loose soil into the ocean, where it can smother coral reefs.
The island of Oahu, where Honolulu is located, was dealing with power outages and traffic problems, said Adam Weintraub, communication director for Hawaii Emergency Management Agency.
There have been reported of multiple downed power lines, he said.
"Extreme fire danger will continue until these winds subside and we get a little more humidity here," Weintraub said.
The weather service had in effect a high wind warning and red flag warnings for dangerous fire weather, Powell said.
These conditions were expected through Tuesday, decreasing throughout the day Wednesday and into Thursday. "It's going to feel windy for a few days," Powell said.