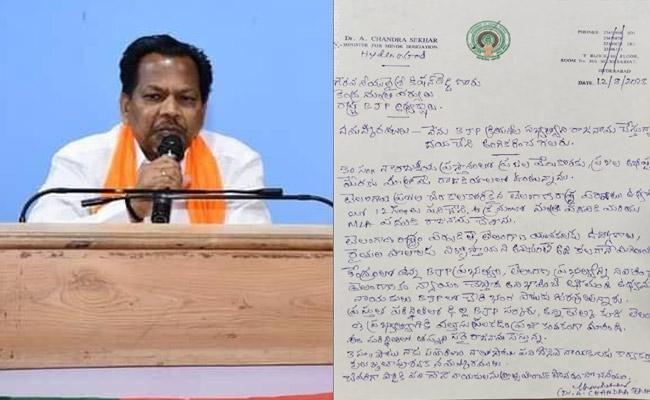 In a jolt to BJP in Telangana, former minister A. Chandra Sekhar on Sunday resigned from the party. He is likely to join the Congress.
Chandra Sekhar sent his resignation letter to state BJP president G. Kishan Reddy. He alleged that the party was not encouraging those working hard for the organisation. He also wrote that the BJP government at the Centre was unable to stop the injustice to the Telangana government
The five-time MLA, a former MLA from Vikarabad has been staying away from party activities for some time.
Last month, BJP MLA Eatala Rajender had gone to Chandra Sekhar's house to convince him not to leave the party.
Rajender, who was recently appointed chairman of the BJP election management committee for Telangana, had advised him not to take any action in haste.
Chandra Shekhar explained to Rajender the problems faced by him in the party. He complained that though he joined the BJP two-and-a-half years ago, he was not given any post.
Chandra Sekhar had quit Congress to join the BJP in 2021. He had earlier served as an MLA from Vikarabad constituency for five times from 1985 to 2008. He was elected on Telugu Desam Party (TDP) ticket from Vikarabad for four consecutive terms. He later joined TRS (now BRS) and was elected on TRS ticket in 2004. He served as a minister in the Congress-led coalition government in united Andhra Pradesh.
Later, he joined the Congress party. He quit the party to join BJP in 2021.
Chandra Sekhar's resignation is another blow to the BJP in the run-up to Assembly elections due to be held by year-end.
He is likely to join the Congress party on August 18 in New Delhi.